How Trust Deed Investing Works
While it is true that trust deed investing is one of the safest and easiest ways to grow your money; there are still many people out there who are unfamilliar with this investing strategy.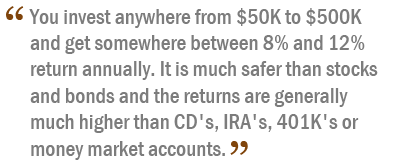 Essentially what happens when you become a trust deed investor is that you loan money towards the purchase of a piece of real estate and in turn you are given the deed of trust for the house as collateral. It is very important to understand that you are actualy paying somewhere between 50% and 70% of the homes value. If something were to happen and there is a default on the loan, it is backed up by a piece of real property where the value greatly exceeds your initial investment.